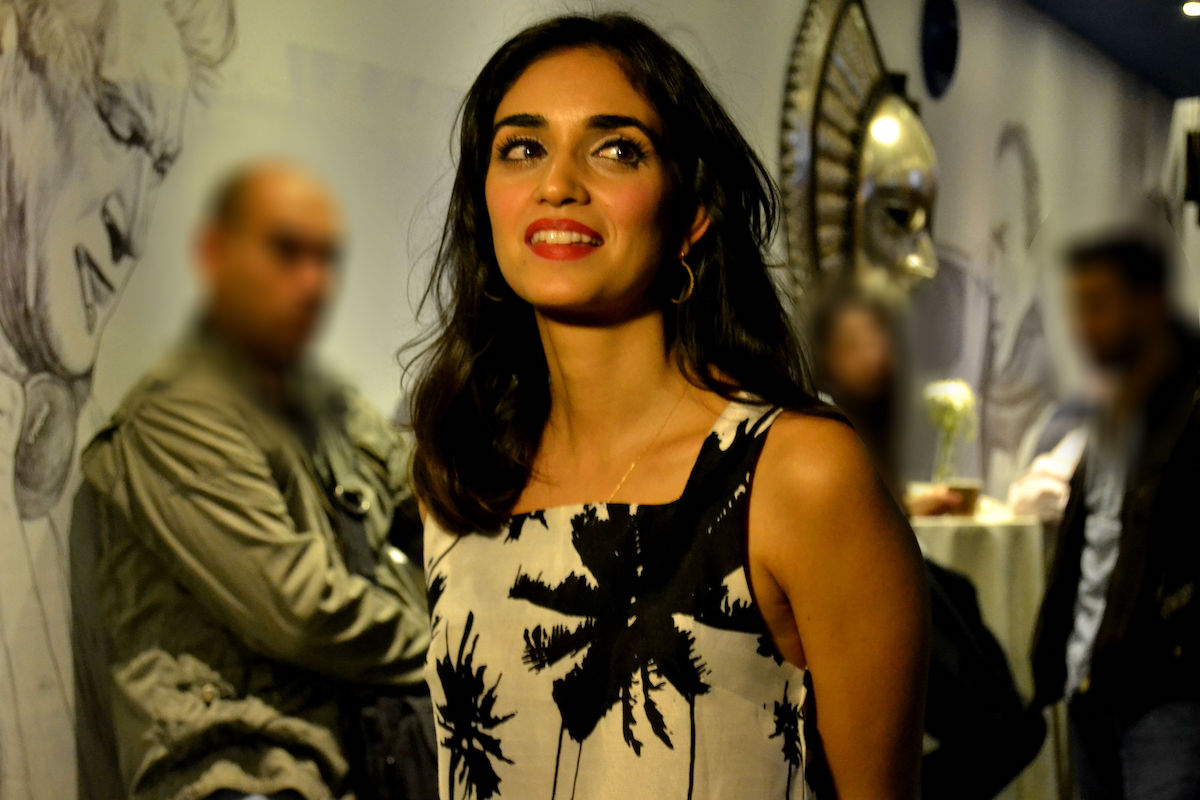 Songs and lyrics by an Israeli performer used in Iranian protests against the Islamic regime
Iranian protesters use the songs of Israeli actress and singer-songwriter Liraz Sharhi in their rallies and videos against the Islamic Republic: "How long will we be silent, how long will we keep our heads down?
While Charhi plays the role of a Mossad spy in the Israeli television series "Tehran", she continues to develop her musical repertoire among Iranians. Although artistic cooperation with Israel or Israeli citizens is a punishable offense in Iran, Charhi has collaborated with Iranian artists on three albums since 2018.
Charhi's first two albums feature contributions from anonymous Iranian musicians, who recorded their parts remotely. The first, "Naz", would become popular with the Iranian people after its release in 2018.
"Very quickly, I received videos of women dancing at underground parties, and removing their chador [a Muslim-culture cloth that covers the head and upper body] and dance to these songs," Charhi told Israel's Channel 12.
For her latest album, "Roya" – which means "fantasy" in Persian – the Israeli artist met four Iranian musicians in Istanbul earlier this year, collaborating for the first time in person. Turkey is one of the few countries where Iranians can travel visa-free.
The artists traveled to Istanbul on the condition that they not have their names or characteristics made public, but the meeting was significant for them and for Charhi.
"I have waited all my life to meet my friends and family from Iran; the fact that you weren't scared and you were brave is…wow," Charhi said as the musicians arrived.
Speaking anonymously to Channel 12, the Iranian musicians said they were willing to take the risk of making music with an Israeli artist.
"We know Iran has a problem with Israel…but if we just make music, it's fine," one musician told Channel 12. "I know it can be dangerous, but I'm doing what I love."
Protesters in Iran have been sending Sharhi messages of support and admiration since protests against the regime began.
"Thank you for being our voice; I will never be forgotten," says a message sent to her on social media.
"I love your songs in Persian and I hope one day you will sing in beautiful Tehran," wrote another Iranian.
Over the summer, Charhi performed at the Janusz Makuch Festival of Jewish Culture in Krakow, Poland with the Iranian artists. Polish-born Makuch has been organizing the Festival of Jewish Culture since 1988 – a practical answer to the question he posed last week to Alan Rosenbaum of the Jerusalem Post: "How can we – Jews and non-Jews – commemorate the Jewish life here? "The Festival of Jewish Culture took place this year for the 31st time.
Charhi's collective performed at the Old Synagogue in Krakow, with the Iranian performers masked in golden hijabs during the performance to hide their identities. Despite wearing a hijab, one of the musicians allegedly insisted on showing her hair and was later recognized and unmasked in Iran for performing with Charhi, Channel 12 reported.
Anti-regime protests in Iran have been going on for a month, spreading across Iran, even among schoolgirls who staged rallies in the streets and demonstrated in their schools. According to the Oslo-based NGO Iran Human Rights, more than 200 Iranians have been killed in the protests, including 23 children.
"Some were killed instantly and others died of their injuries later," the NGO said on October 12. "According to reports received by Iran Human Rights, many injured protesters were denied admission to hospitals and medical centers or treated at home for fear of arrest.
IHR said that in addition to students, petrochemical and oil contract workers have joined "nationwide strikes and protests." The NGO said it had received reports of mass arrests of protesters and activists, who were identified by intelligence agencies.
"The use of torture and ill-treatment against protesters has been widely reported, with at least two deaths in custody," IHR said. "Families have told Iran Human Rights that their loved ones are being pressured to coerce televised confessions.