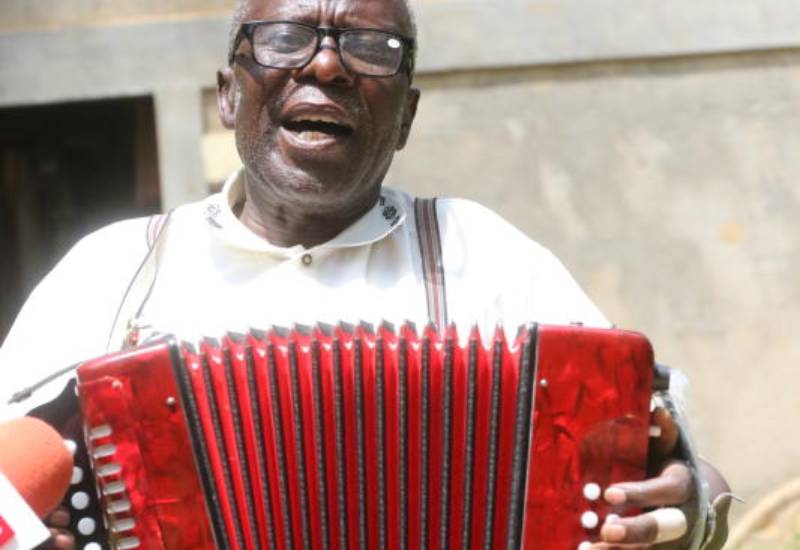 Singing preacher from Kakamega who preaches using a rare musical instrument
The melodious sound of an accordion welcomes you to Josphat Wanzala's house in Lutonyi, on the outskirts of Kakamega town.
We found the 68-year-old Church of England minister playing a song based on Psalms 23 on his accordion.
Once a very popular musical instrument, the accordion is rarely used by musicians today. It is part of a family of box-shaped musical instruments originating in Great Britain.
Mr. Wanzala may be one of the few people in Kakamega who can still play the instrument. A former civil servant, Mr. Wanzala devotes his life to singing songs of worship and praise.
"The accordion has become a rare musical instrument. I jealously guarded mine," he said, stroking it gently.
Mr Wanzala, a father of four, recalls the day he played the instrument for the late President Daniel Moi at State House, Nairobi in 1996.
"I was a member of the Christ the King ACK Milimani Choir in Kakamega. We had played at Kasarani stadium on Madaraka day before the president. Our impressive show opened the doors to State House for us," he says.
Pastor recalls how State House orderlies arranged for accommodation for three days in town ahead of Madaraka Day event
Since then the accordion has seen him travel far and wide to entertain and showcase his musical prowess. Mr Wanzala says he discovered his singing talent when he was in primary school in the early 1980s.
"I used to sing from primary school and by the time I reached secondary school I was able to play some instruments. After finishing my O level studies, I went to Butere to see my brother and that's how I came into contact with an accordion for the first time," he says.
"I was lucky because my brother gave me the instrument and told me to take it to an expert to fix it," he adds, noting that his brother had two accordions.
Wanzala says the instrument was a product of a company in England that collapsed and could only be repaired in the UK. However, he continued to play as he planned to have it repaired.
"It was the old accordion model with six buttons, three of which were functional. I kept playing it because it would have been expensive to fix it. I needed 1,800 shillings for the repair.
Before his brother's death in 1984, he sold the new accordion, diminishing Wanzala's hopes of ever playing it.
"I traveled to Nairobi to look for an expert who could fix my accordion but no one could fix it. Only the manufacturing company in the UK could do the job, but the company had closed shop," he says.
Luck smiled on him when one evening the owner of a shop where he was doing minor repairs to the instrument called to inform him that a visiting British soldier wanted to sell his accordion. "When I arrived at the store, the soldier told me to sing a verse while playing his accordion. A crowd began to form. They were captivated by the music and amazed by my prowess," recalls Mr. Wanzala.
The soldier agreed to sell him the accordion on credit after learning that he was both a student and a civil servant.
Last year, the same shop owner contacted him with a new model accordion, which Mr. Wanzala bought for 60,000 shillings.
The new model has 29 buttons, unlike the old one which only has 10 buttons. The price of an accordion varies between 35,000 Sh and 125,000 Sh depending on the size and brand.
"Playing the accordion is not for the faint-hearted. You have to develop interest and have passion. I train people to play it. It takes about four weeks to master everything," he says. It's possible to earn a lot of money playing the accordion. However, I don't do it for the money but it's a passion that drives me. I can't go far if I start charging my talent," he adds.
Wanzala began performing at events and places of worship at full throttle in 2005.
"I have traveled through East Africa playing in Uganda, Tanzania and almost every part of Kenya. People welcome me wherever I go because they would like to hear unique music.
"I once used a wrong exit after playing at a public event in Butere and landed in the hands of army soldiers who released me after playing the accordion. Some offered me money and I was escorted by others," he says.
Mr. Wanzala rose to fame in Western where his fans nicknamed him Mtu wa Kinanda. His wife, Emmah Makokha, says his melodies inspired her to join the church choir.
"I met my husband long before he got an accordion, but he was a talented singer. I was moved by his singing prowess," she says. "This instrument has played a key role in solidifying our relationship as husband and wife."
Mr. Wanzala holds a degree in social sciences and conflict management from the University of Nairobi and sometimes spends his time resolving conflicts in his home village.