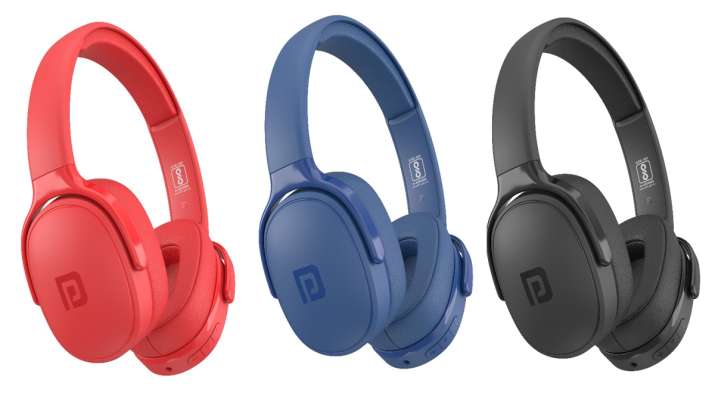 Porttronics Muffs A 10 Pointer Wireless Headphones review: Decent performer with long battery life
Portronics introduced the new wireless headphones named "Muffs A" in the month of July. We got our hands on the headphones and tested the device for a good two months below is our quick review to help you make a decision to choose the product. Here is our opinion in 10 points below:
1. Appearance: The unit we received for review was blue. I would like to say that the helmet looks sturdy and has a very high end look. From a distance, the helmet was designed to grab the eyes. The Muffs A is designed with an IPX5 water-, sweat-, and dust-resistant body so you can use it worry-free during sweaty workouts or if you get caught in unexpected rain during your commute.
2. Comfort: These earphones are constructed using extremely soft and skin-friendly ear cushions (removable) made from memory foam and a fluid ergonomic design that provides superior comfort even when in use for long hours. I've reviewed the headphones while traveling and working, and they haven't given me any issues. I wore it on my head for almost 2 hours and it was comfortable and not heavy on my head. Therefore, a warning for the comfort side.
3. Music and sound quality: The company highlighted the powerful bass of the headphones. The headphones are powered by large 40mm drivers that deliver deep, powerful bass while delivering crisp, distortion-free highs and mids. The Muffs A was specifically designed for those who love music with powerful bass and crisp highs, with an on-ear form factor. As noted, we tried high base audio and rock music, where headphones performed well. I won't say the base is great, but it sure is good and doesn't create any uncomfortable experience.
Additionally, the company said that the ergonomic design provides better sound isolation so you can cut through the surrounding environmental chaos and enjoy your music and movies in peace or attend voice and video calls without any disturbance. Although music, when played at a higher pitch, leaks out of the headphones, the quality was good.
4. Battery Life: Portronics comes with a 520mAh lithium-ion battery and the company claims the headset can deliver up to 30 hours of playtime on a single charge. I tried to use it and definitely, the headset lasted 4 days on a single charge where I used the headset while traveling, working, working out at the gym and watching reels and short videos on my mobile at late hours. The battery lasted quite a while.
Battery fully discharged and no charger nearby, no worries, the Portronics Muffs A can also be used with an audio cable that can be connected directly to your smartphone, tablet or laptop so you can continue your entertainment non-stop. The audio cable can also benefit those who love gaming as it offers zero latency for superior audio synchronization.
5. Call quality: This is another concern when we talk about earphones or budget headphones – the music hearing experience is very enjoyable, but companies tend to miss out on the noise canceling feature for a hassle-free call experience. During calls from Muff, the earphones gave out clear and loud sounds from the caller, and the call receiver also had a clear experience in the voice context.
6. Connectivity and Pairing: Built around the latest Bluetooth V5.2 chip, the Porttronics Muffs A offers superior connectivity over a wider range and also offers better energy efficiency. In addition, the device has a USB Type-C charging port which allows the headset to charge faster. Any smartphone charger can easily connect the device.
7. Pricing: The Porttronics Muffs A is priced at Rs 1,999 and is available on the official Porttronics website, Amazon India and other major online and offline stores and
8. Warranty: It comes with a warranty period of 12 months. So, in case any problem arises, you can definitely fix it
9. Competition: The Porttronics Muffs A headphones stand tall in an affordable price range with great comfort, long battery life and solid build quality. And it's under the Rs 2,000 budget, which certainly makes it an affordable headset these days. But as we all know, headphones are bulky and if someone wants to carry them around, they will have to make room in their bags. Therefore, this Muff A headset is decent, but in the same price range, we could also get practical headphones, which could be carried anywhere easily. Brands like OnePlus, Oppo, boAt and noise are among the players that could stand to complement the new Portronics Muff A headphones. But speaking of headphones, there is another group of people who love headphones.
10. Verdict: Overall, the Portronics Muffs A has been priced at Rs 1,999 but it is available at a discounted price of Rs 1,649 on the Chroma store, and on Amazon the same headset is priced at Rs 1,399 ( at time of writing)
Latest Technology News