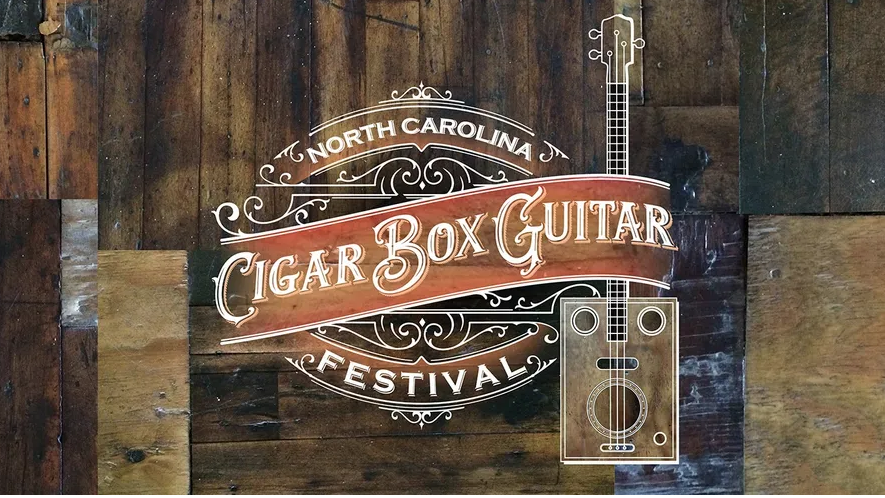 Performer Biographies for the NC Cigar Box Guitar Festival 10/10/20 | Music
NORTH CAROLINA CIGAR BOX GUITAR FESTIVAL
YES! WEEKLY PROUDLY PRESENTS NORTH CAROLINA'S 2ND CIGAR GUITAR
10/10/20 – 1 pm-9pm – Grove Winery
An unforgettable festival
https://northcarolinacigarboxguitarfestival.org/
The purpose of the North Carolina Cigar Box Guitar Festival is the revival and interest in handmade string instruments, leading to a historical education that explores the roots of American music. The North Carolina Cigar Box Guitar Festival preserves and perpetuates this iconic American art form that seeks to rekindle interest in homemade guitars through educational programs, forums, music, and guitar art workshops. Cigar Box.
1 p.m. – 2 p.m. Andy Squint
2:30 p.m. – 3:30 p.m. Skye Paige
4 p.m. – 5 p.m. Gatewood for Blind Dogs
6 p.m. – 7 p.m. Ruth Wyand &
The tribe of one
7:30 am – Close Steve Arvey
Steve Arvey was born in Chicago, Illinois, and grew up primarily in the Chicago area. Arvey moved to Havana, Cuba in 1958 where he lived with his family until 1961. His father Erwin B Arvey had a business in Cuba and had to leave after political pressure from the Castro regime. Back in Chicago Arvey grew up in Chicago and was surrounded by music thanks to his mother Celeste Ravel who was a former Wayne King Orchestra jazz singer. Steve's first exposure to music was blues music which was performed on Maxwell Street in Chicago. In 1978, Arvey moved to Florida where he met Delta Blues guitarist Ben Andrews and then began playing bass with Bo Diddley. Steve has also worked in the Gainesville, Florida area with saxophonist Robert Hunter. During the summer months he would return to Chicago where he worked as a sideman playing bass behind notable musicians such as Jr Wells, Jimmy Rogers, Hubert Sumlin, Big Smokey Smothers, Homesick James, Sammy Fender, Detroit Jr, Lucky Lopez. and many others. In 1981, he formed his own group called West Side Heat and went on tour in the Midwest. in 1984, he recorded his first disc "Crazy Mixed Up World"
After the release of this album, Steve toured with the band both internationally and nationally until the band broke up in 1990. Steve then became active in a number of solo projects. To be in the Chicago band The Celtic Rovers, to form a rock cover band called Monkey Chow, and to record and perform with Kraig Kenning. In 1997 he recorded a CD with Kenning titled Pass The Hat. During this time, Steve appeared ten times at Chicago Blues Fest, along with his band or other members. The West Side Heat group reformed in 1997 and started doing reunion concerts. In 2001, Steve recorded his album Fine Line which earned him major releases in the UK and Australia. Steve made his first tour of Australia in 2002.
Steve's popularity in Australia earned him a spot at the Byron Bay Blues and Roots Festival 2005 and was signed to Warner International and appeared on that festival's compilation CD which included tracks by Dave Matthews, REM, Jack Johnson and other notable artists. In 2012 Steve formed a band called The Delta Swamp Rats which included the Cigar Box Guitar. This Raw Sound group which was labeled "Mississippi Delta Funk" increased Steve Arvey's popularity in the Cigar Box Guitar / Americana World.
Ruth is a one-woman-band with the dynamic power of a group of 3 musicians. She performs a mix of original songs in Americana, Roots, Jazz and Blues. Demonstrate his virtuosity on the guitar with complex fingering, alternating bass, bottleneck slide, multiple foot drums and raw blues vocals.
Ruth is an exceptional musician and also a great storyteller. As she says "after 100 years of playing everywhere, from biker bars to nudist colonies, there isn't much that I haven't seen". a traveling show of a single woman.
Ruth Wyand and the Tribe of One will have you laughing, crying, singing, and even dancing. Ruth won the Triangle Blues Society solo performance for 2019. She competed in the Memphis Blues Challenge in January 2020 and was a semi-finalist.
"Blind-Dog" Gatewood is originally from Motor City and has been a music teacher, instrument technician and professional musician since the age of 16. His early exposure to some of Detroit's various musical influences created the framework for his vast mastery of blues through R&B, funk, rock and fusion. He's an award-winning solo actor who's polished his chops in places as diverse as the Sierra foothills, the Mojave Desert, the Mississippi Delta and the streets of New Orleans. In September 2002, he won first prize in Colorado at the Telluride Acoustic Blues competition. The first place winners are honored with a performance on the main stage the next day at the Telluride Blues and Brews Festival in front of more than seven thousand attendees. That same year, he won the Kentuckiana Blues Society Blues Challenge in Louisville Kentucky and represented the Society at the International Blues Challenge on Beale Street in Memphis Tennessee. In 2004, "Blind-Dog" was a finalist in the first Annual International Acoustic Music Awards (IAMA) in the AMERICANA / ROOTS / AAA category, for his song "TELLURIDE". In addition, Simi finalist in 2006 in the International Song Contest (ISC), category Blues, for his song "Monkey On My Back". In June 2005, "Blind-Dog" won first place in the Battle of the Blues solo division of the Memphis Blues Society on Beale Street and represented them at the 22nd International Blues Challenge in January in Memphis. In 2006, "Blind-Dog" won the Battle of the Blues two years in a row and represented the Memphis Blues Society at the 23rd International Blues Challenge, this was his third time competing at the IBC in Memphis.
"Blind-Dog" was recently crowned "King of the Blues" at Guitar Center Evansville IN October 2009. for the IBC. In 2014, "Blind-Dog" won first place at the River Basin Blues Society IBC Local and returned to the International Blues Challenge in January 2015. On 09/27/2015 at the Blind Tiger in Greensboro, NC., "Blind -Dog "won first place in the Piedmont Blues Society Blues Challenge, Solo / Duo, and proudly represented PBS in 2016 at the IBC on Beale Street in Memphis. "Blind-Dog" also performed at the 30th Annual Carolina Blues Festival in 2016 on the main stage of the Piedmont Blues Preservation Society. Really, a one-man band, "Blind-Dog" is now based in Greensboro, NC.
Skye Paige is an American songwriter, multi-instrumentalist, nationally touring recording artist, performer, and producer. Skye Paige is known for her slide guitar playing, with diverse musical influence from blues, rock and honky tonk. She has written and recorded over 60 original songs and has an impressive CV, dating back to the early 90s.
Skye Paige has performed and opened for notable artists, such as Mudcat, Dash Rip Rock, RL Burnside Family, JR Kimbrough Family, Albert White, Sean Costello, Eddie Kirkland, Robert Lee Coleman, Eddie Tigner, Danny B Harvey, Blackberry Smoke, Amanda & Samantha Fish, the SuperSuckers, Southern Culture on the Skids and Cowboy Mouth, to name a few. Skye Paige is a courageous singer and plays electric slide guitar, lapsteel, resonator, banjo, ukulele, drums and percussion. Skye Paige is emerging as a well-known performer of the Cigar Box Guitar scene. She plays the "Lowebow," directed by John Lowe of Memphis, Tennessee. Skye Paige also endorses "Secondhand Smoke Cigar Box Guitars," made by Rusty Taylor of Jonesboro, Georgia.
Skye Paige has become one of the main attractions of the Georgia International Cigar Box Festival. Skye Paige has won several awards such as "House of Blues Battle of the Blues", and is a 2-time winner of the "Heavy Rebel Weekender, Crossroads Guitar Competition". Skye is a favorite performer of Atlanta's "World Famous" Northside Tavern. She has performed at the Deep Blues Festival, Blind Willie McTell Festival, Frank Edwards Chicken Raid, RL Burnside Picnic, Jr Kimbrough Cotton Patch Soul Blues Festival, Clarksdale's Juke Joint Festival, Spoleto Festival's "Diva of the Blues", at Heavy Rebel Weekender, Rims on the River and Countess Car Shows, Bike Rallies, Toy Races and other fundraisers. Skye Paige is a powerful musician, playing for almost 30 years and showing no signs of slowing down anytime soon.
Andy Squint is a multi-instrumentalist, songwriter and producer. His distinctive style of blues guitar was developed while working as a sideman for several artists in the Louisiana Blues Hall of Fame, including the legendary Henry Gray.
As a solo artist and band leader, Andy has performed at festivals, clubs and concert halls across the South, opening for groups such as Tabby Thomas and Robert Cray. He has had the pleasure of appearing on recordings with international blues artist Larry Garner and the Greensboro supergroup Gate City Divas.
His original music catalog includes the digital single "No Worries On My Mind" (2019), a 10 song CD Down By The River (2011) and a 10 song CD on Yonder Wall Records titled Goin 'To The Racetrack (2006 ).