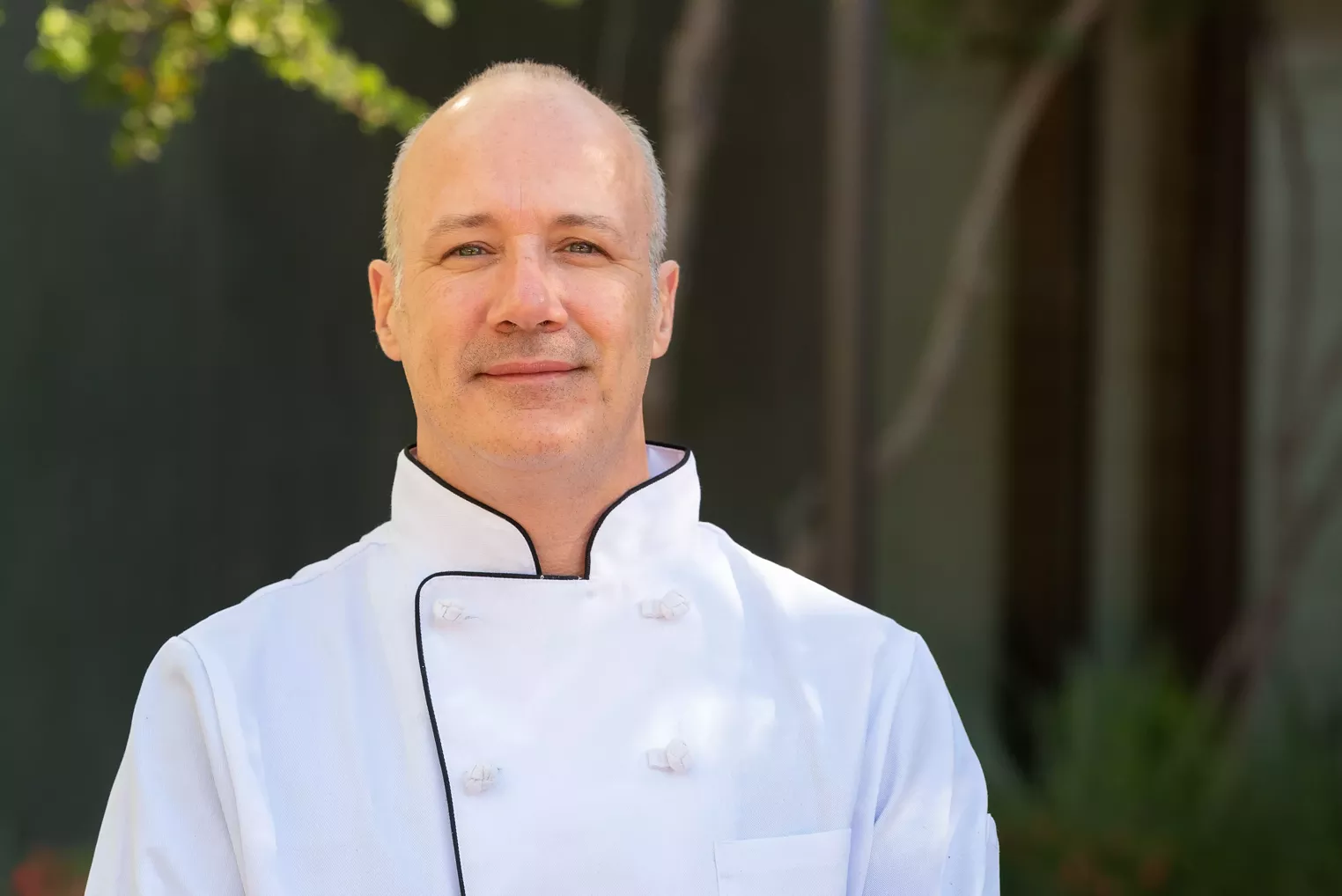 Now open: Café Allegro completes the overall experience inside the Musical Instrument Museum
[ad_1]
As you stroll through the open corridors of The Musical Instrument Museum (MIM), you are greeted with guitars, pianos and other instruments collected around the world. At the end of the walk, the museum is home to another quiet gem – the recently reopened Allegro Cafe. The café opened on November 1 under the new management of Executive Chef James Moran. Moran's updated menu incorporates his desire to include global dishes including butter chicken, beef empanadas and tuna tartare.
Café Allegro is currently open seven days a week, starting at 11 a.m. inside MIM at 4725 East Mayo Boulevard. During the pandemic, the cafe remained closed. This allowed the museum to call on Moran to chart a new direction for the restaurant. Its revamped menu incorporates various specialties and will change weekly.
"At MIM, there are instruments from all over the world, and we're trying to introduce global cuisine to the menu," says Moran, who wants his menu to reflect what's happening outside the museum, like international events like the Olympic Games or cultural holidays around the world.
At Café Allegro's preview night, the chef presented a beef empanada, made in Argentina, with a hard-boiled egg, olives and chimichurri aioli.
"It's global and local, and we try to keep everything under those parameters," Moran said.
Moran says he is committed to sourcing fresh ingredients from local suppliers. Perhaps this is because of his affinity for the state of Arizona. Although he initially spent time in New York City, in 2002 he visited Phoenix and the experience stuck.
"All of my experiences in Phoenix have been positive," says Moran. He returned to New York and then moved to Japan in 2015, where he learned to cook traditional Japanese cuisine. He has worked at the Tokyo American Club and is eager to marry his global experiences with his desire to source locally.
"The overall menu is what we do in the exhibitions," he says.
As customers browse the various musical instruments separated by continents and regions, the experience can take at least three to four hours. On their way to the cafe area, customers will find that there is plenty of room to lie down and talk about the many instruments. The decor is minimalist, but the floor-to-ceiling windows overlook the courtyard, which offers a lovely view while enjoying the cuisine.
It's a quiet neighborhood, and that's not unusual in a museum dining room. Customers may like to combine their music experience with a global dining experience, which for locals and tourists alike is an unexpected good surprise in the middle of the desert. Guests don't have to worry about allergies or dietary restrictions, as the menu offers gluten-free, vegan, and vegetarian options.

Moran says, "He's planning six weeks of menus at a time, but will continue to tweak specific items week to week." A staple food is daily soup. Every day there's a different soup on the menu, ranging from a pumpkin cider bisque to a split pea with ham and crab and corn chowder. As for other menu items, there is a local and global option on offer, as well as specials for the week.
For the week of November 15, the chef served a chicken mole, roasted vegetable lasagna and a spinach and gorgonzola quiche. These options change weekly. Standard items include vegetables from the grill, burgers, and sides like the Southwestern pasta salad, fries, and Brussels sprouts.
Moran is ultimately excited about the opportunity to shape Café Allegro with his vision and love for cooking.

"I grew up cooking all my life. My mother used to cook French at home. In my teenage years, it was obvious that I entered the culinary field," explains Moran.
Allegro Cafe
4725 Mayo Boulevard East
Lunch offered every day from 11 a.m.
[ad_2]