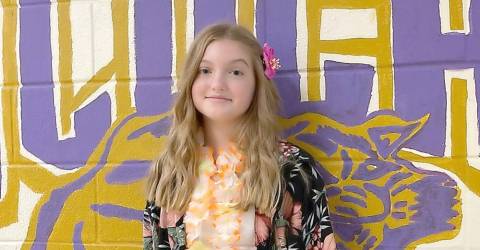 Mentor. Performing artist. Entrepreneur. And 'a cool young woman'
Madeline "Maddie" Bates is a sixth-grade student at Warwick Valley Middle School, where she relishes the peer-mentoring opportunities she gets through her school's Multi-Age Classroom (MAC) program.
MACs include a mix of fifth and sixth graders, and sixth graders often take the younger ones under their wings.
"It's good because you have a lot more responsibility in sixth grade and you help the fifth graders," Maddie said. "Like the first week of school, we helped them get around the school, find their class, access their Chromebooks — that kind of stuff."
"She's just a really cool young lady"
"Not only is Maddie kind and friendly, but she's doing very well academically, and among all the things she's passionate about and great at, she even runs her own jewelry business on Instagram," said Georgianna Diopoulos, Principal. from Warwick Valley Middle School. "She's just a really cool young lady!"
Maddie's favorite subject is math because it constantly gives her new and different problems to solve. She has also played the violin since elementary school and says she is inspired by the music of her father, a musician who keeps an extensive collection of instruments in his home.
"It's fun to be on stage"
Maddie has also been active in the district's talented performing arts community for nearly four years now.
"I got into a drama club in third grade, as soon as I could start," she enthused. "It's fun to be on stage. I like to sing, dance, play; for me, it's just kind of natural to do it.
Maddie has been involved in three productions so far, including last year's "Annie Kids" video production. She said the highlight of her stage career so far was playing the lead role in her fourth-grade production of "The Little Mermaid."
"I was beyond excited to have been able to play Ariel," she said. "I loved all the songs from the Disney movies when I was young and had a costume for all the Disney princesses."
Beyond the classroom and the stage, Maddie loves jewelry design and has become an online entrepreneur. She launched Maddie's Jewelry Shop, with adult advice, on Instagram last year.
"During quarantine I got bored really quickly," laughed Maddie. "I was watching social media and I could see other people shopping. I love to wear jewelry, so I just went to Amazon, ordered some supplies to get started, and now I have an Instagram store!
Business has gotten off to a good start, and Maddie also says her sales increased when people started placing orders for their back-to-school outfit accessories this year. Maddie's Jewelry Shop offers earrings, anklets and bracelets.
It is planned to expand the range of products in perspective.
"I recently bought a lot of beads, so I will be making bead necklaces, and I will also be making wire rings and keychains," she said, adding that custom orders are still open. welcomes.
On the weekends, you'll even find Maddie running her pop-up shop in her grandfather's laundromat in Warwick, the Forester Avenue Express Laundry Center.