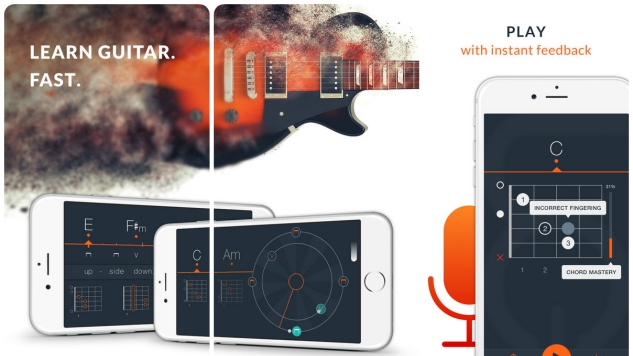 Learn a new musical instrument with these 10 great apps
Have you always wanted to learn to play a musical instrument? It has never been so easy thanks to technology. YouTube is a great place to start, providing comprehensive tutorials that don't require you to purchase lessons. Along with this, the app store has lots of apps to teach you how to play lots of different instruments.
We've rounded up 10 of the best:
GarageBand is best known as Apple's way of easily recording music on your iPhone or iPad. It's more than that, however. It basically provides you with virtual instruments wherever you take your devices. While there aren't any specific lessons here, it's great when you want to have a quick jam and practice session on the go.
Place your iPhone or iPad next to your piano or keyboard and start playing, Simply Piano will immediately offer you feedback on how you are doing. Along with that, it offers 5-minute music practice sessions, tips on how to read sheet music, and comes with loads of fun songs for you to learn how to play.
Yousician will help you learn to play piano, guitar, bass or ukulele. Offering step-by-step video tutorials, it will guide you from the basics to much more advanced techniques. Over 1,500 assignments and exercises are included, with specific music theory lessons also provided. Weekly challenges keep you coming back for more.
Uberchord is like having your own guitar teacher. He listens to your way of playing, adapts to your needs and brings you personalized advice and tips. Craft lessons are included, teaching you all the necessary techniques while using well-known songs. There's new content every week, as well as a song trainer to teach you how to play specific tracks.
Want to learn to sing in perfect harmony? SingTrue is the app for you. Offering over 30 interactive exercises, it will help you train your voice so you can sing with ease and confidence. Using your iPhone's microphone, the app analyzes your singing and provides personalized feedback. Even inexperienced singers should be surprised to learn that their voice is much better than they expected.
Voice Training works the same way as SingTrue, but with a little more detail. It will highlight the note you should be singing, next to the pitch you are currently singing. A range of exercises help you expand your vocal range by relaxing your voice, with singing games available to keep you in shape. There are even interval tests ready for your music level exams.
Kind of like Guitar Hero for piano, but a bit more educational, Tiny Piano is a fun starting point for the aspiring pianist. Giving you the choice to manage the timing, you can choose to play each song quickly or slowly. There are over 400 songs available, so there's plenty to discover. It will give you a great sense of satisfaction in no time.
With a focus on well-known songs from all your favorite artists, Piano Free should put you at ease. You can choose from five different instruments, such as grand piano, harpsichord, electric keyboard, organ, and glockenspiel, before adjusting the speed to your level of ability. The Force Touch stand also recreates the true sound of a piano.
Easy Music is aimed at young children, but it's actually a good starting point for anyone. It will help you learn to recognize notes, pitch, rhythm and melody, while having fun. It's simplistic, but if you're struggling to understand some of the theory behind learning an instrument, it's a great form of musical education.
A new inclusion in the App Store, Justin Guitar Beginner Song Course offers an interactive step-by-step course that teaches you chords, strumming, and anything else you might need to know. Instructional videos and FourChords guitar karaoke style lead the way, ensuring the learning curve is never too steep. Over 200 songs are included in the collection.