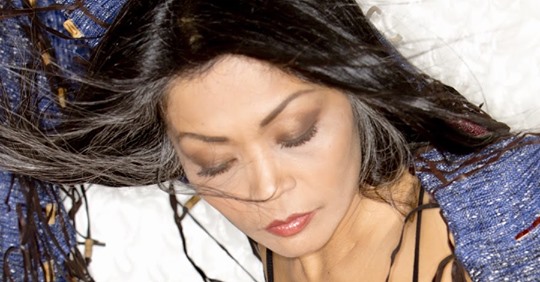 Filipino entertainer-ethnomusicologist-cultural animator
Artist profile
Retracing the trajectory of Grace Nono's career—
As a stage artist and music producer…
She has worked on six painstakingly crafted, multi-award-winning, high-profile solo albums that merge styles of popular and traditional music.
Tao Music, with songs about social issues like the exploitation of natural resources in indigenous areas, also addresses personal emotions and struggles.
Opo, ​​which means affirmation, addresses various themes including the denigration of Indigenous voices. Opo brings together diverse musical talents, establishing Grace's gift for synthesis.
Isang Buhay (One Life), on the human journey, highlights choral celebrations and the sense of community.
Hulagpos (Breaking Free), a collaboration with nine female poets. The album advocates an end to violence against women and advances women's struggles for self-determination.
Diwa (spirit) features Filipino prayer songs, connecting the ancestor and the contemporary.
Dalit (gift) highlights love complaints from the central Philippines.
Here is the link of this album on youtube: https://www.youtube.com/watch?v=ehWnJZKl7v4&list=PLNJdVhwrJXJHltHmWsIKL2Mv3J4nVv1zF
In the 1990s and early 2000s, Grace and her musical collaborator Bob Aves, a Berklee graduate and virtuoso guitarist, composer and arranger, established an independent production company. This released educational recordings on traditional Filipino music. The Maguindanao Kulintang presents the solos of Aga Mayo Butocan. Pakaradia-an: Maranao Epic Chants and Instrumental Music presents Sindao Banisil. Marino is a collection of Hanunuo Mangyan music and poetry sung with Ulyaw Bat-ang, et al. Tudbulul Lunay Mogul: T'boli Hero of Lunay, the place of gongs and music presents Mendung Sabal. And, Kahimunan: Cultural Music of the Manobo, Higaonon and Banwaon of Agusan del Sur presents Datu Yadup Salvador Placido, et al.
As a singer, Grace has been invited to sing in many parts of the world, often in collaboration with traditional musicians.
Here is the link to a clip of GRACE NONO at the SOUL FORCE SACRED MUSIC FESTIVAL 2019 https://www.youtube.com/watch?v=ugUIRAKrAAY
As an academic, with a PhD in ethnomusicology from New York University, with decades of ethnographic research behind her …
Grace has published two award-winning books in the Philippines: Song of the Babaylan: Living Voices, Medicines, Spiritualities of Philippine Ritualist-Oralist-Healers (2013) and The Shared Voice: Chanted and Spoken Narratives from the Philippines (2008). She has also written articles in edited volumes on cultural heritage, healing and decolonization. Currently, Grace is working on her third book on the agency of indigenous communities and the resistance of their ways despite five centuries of colonial and neocolonial history. This book will be published later this year.

As a grassroots cultural facilitator …
Grace founded the Tao Foundation for Culture and the Arts twenty-six years ago, a non-governmental organization dedicated to cultural revitalization. It is run by artists, academics and community leaders. The foundation helps to facilitate the exchange, transmission and development of cultural knowledge and practices, so as to contribute to the empowerment of cultural teachers and practitioners.
Source: Tao Foundation webpage: http://www.taofoundationph.org/
Her work surely deserves the number of awards she has received for her dedicated work over the years – 45 awards to date – for excellence in music and vocal performance, research and writing, and work. which helps to preserve Filipino culture and indigenous arts.
This year, Grace Nono was recognized by the National Commission for Culture and the Arts (NCCA) as one of the winners of its inaugural SUDI Awards, which aim to honor the Philippines' most outstanding musical achievements over the two decades.
The award recognizes "outstanding contributions of Filipino musical works, creators, institutions and researchers in all genres and modes of production with the highest standard and artistic excellence" to be known as such.
In an article, Grace thanked the NCCA and went on to say, "I dedicate this award to the many elders from Mindanao, Visayas and Luzon who have generously taught me certain aspects of their musical and related knowledge, helping me to decolonize my voice, proving for me, this knowledge does not reside only in the books or in the schools first instituted by the colonizers, but in the voices and songs of our people on their ancestral lands and beyond. Salamat from Daghang, mga Datu ug Bae, mga Manong in Manang. I honor all of you for affirming your musical and other traditions and sharing them with those you find sincere in learning. The pursuit of ancestral knowledge is a difficult path to take, but it is worth it when we begin to claim dignity in our ways that we were once told they did not deserve. I also dedicate this award to the younger generations who, once awakened to the power and beauty of ancestral music, can, if they wish, ask permission to learn from cultural practitioners, and if they are granted a such permission, they can engage in a sustained and reciprocal relationship with their mentors for the benefit of all.
Grace Nono's work has three interconnected faces: artistic practice, as a singer supervised by oral masters; scholarship, as an ethnomusicologist and interdisciplinary researcher who writes on traditional Filipino musical practices in relation to issues of gender, religion, healing and decolonization; and grassroots cultural facilitation, as the founder of the Tao Foundation for Culture and the Arts which works with diverse communities.
I have followed Grace's journey through the decades, first as a young girl from Agusan del Sur, in northeastern Mindanao, who studied at the prestigious Philippine High School for the Arts; then as a humanities student at the University of the Philippines. I've seen her perform in folk houses and cafes in Manila and Baguio where she sang with the rock band, The Blank, doing western rock covers. She later took a year off and reconnected with her roots, the music and the arts of Mindanao. Upon her return to Manila, she began creating albums of original works inspired by indigenous sounds, in collaboration with Bob Aves. This catapulted Grace's local music into what has been termed world music.
Needless to say, her albums are as much a part of my life and my time as her books and writings which have left a deep mark on me, enriching my cultural identity as a Filipina.
Finally, a note from Grace's Facebook page dated September 11, 2020, reads:
We have uploaded selected albums, singles and performances here: https://www.youtube.com/…/UCpTfZL9gF0haxJaPYDXajZw/playlists.
If the music speaks to you, click Subscribe and share with your friends.
Click View Full Playlist or Song Titles to see descriptions and credits.
Although isolated in these difficult times, we don't have to be alone as we listen to music together that resonate with us. Blessings to all.
Websites: gracenono.com