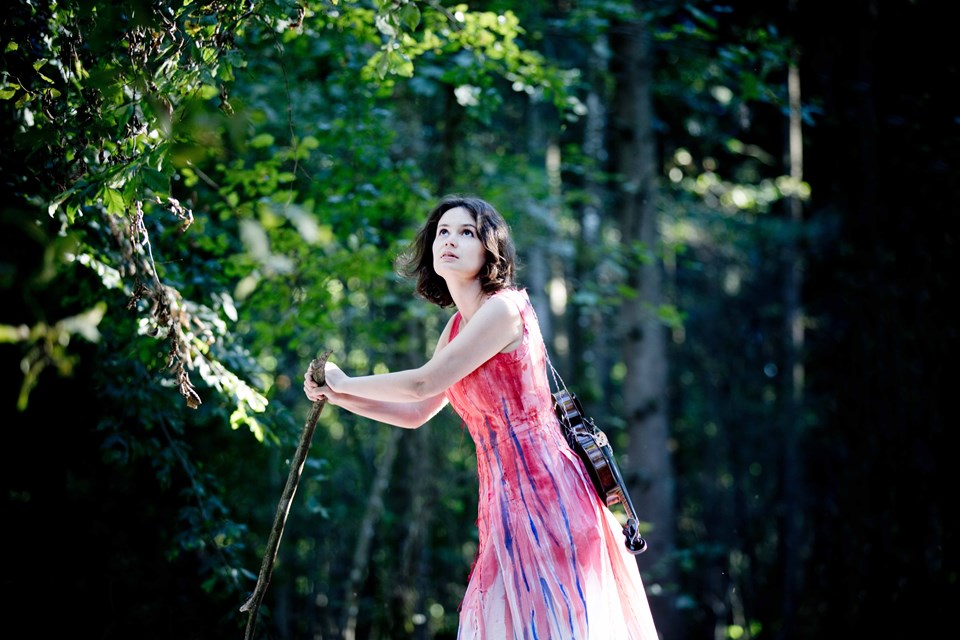 COVID and the performer: Patricia Kopatchinskaja
[ad_1]
COVID lockdowns affect everyone and everything in different ways and they are devastating for the arts and artists.
During the first confinement, I was first stunned and then depressed. I got out of it by first playing a few recitals for birds and bystanders in the nearby wood. Then, in the summer, I organized solo recitals in Swiss churches, earning over 20,000 Swiss francs for musicians in need and at the same time expanding my solo repertoire. After that, I was able to play a few live concerts but on a very small scale. In the past 25 years, I have never had so much free time. I invested it by being more with my family, by reading Tolstoy and on Napoleon and finally by sitting down regularly at the piano and by taking up the favorite pastime of my youth – composing.
I also had the chance to be invited to participate or conduct several video concerts in Boswil, Gstaad, Salzburg, Bern and Stuttgart among others.
It's a bit of a paradox because my musical mission so far has been to break out of the constraints that have been placed on musical performance today by the perfectionist standards of the recording industry as predicted by Walter Benjamin in his 1935 trial The work of art in the age of mechanical reproduction. I really want to go back to the performing tradition of the 19th century and before, where novelty, improvisation and risk taking were a given and a measure of quality.
With recorded music and online events, you lose the thrilling community experience of a concert and the compromise between artist and audience, which includes dialogue, surprise, provocation, as well as applause and protest. . Therefore, we began to try to make necessity a virtue, namely to replace what is lost from the performing arts with the specific visual and artistic possibilities of cinema. In fact, we did such projects even before COVID, an example being our filmed version of Kurt Schwitters Dadaistic Ursonate. And now our recent lost tour due to COVID is replaced with the new movie on Death and the young girl which we produced with Camerata Bern and the team of filmmaker Quinn Reimann.
Shot in the spectacular Riding Hall (Reithalle) from 1897 in Bern – a place beyond time, limits and rules, where the noise and lights of the many trains passing nearby remind us of the ephemeral and inevitability – we transformed the concert material into a form suitable for streaming. The result is a real film which, besides sound, uses all the means of space, movement, imagination and imagery to replace what is lost from a live performance.
that of Schubert Death and the young girl The Quartet was inspired by its previous eponymous song on a poem by Matthias Claudius, which itself was modeled on simple ancient verses accompanying the many medieval representations of the dance of death that appeared after the plague. The film explores the musical and contemporary contrasts from Gesualdo to Kurtág, or from COVID to ZOOM to show many facets from the terrifying to the heartwarming …
And aren't we dancing already?
Perhaps the COVID outbreak is not only accelerating the molecular biology of mRNA vaccines, but it is also facilitating other forms of concerts and musical films, a genre that has often been static until now.
Nevertheless, I want and look forward to live concerts. The mission of reintroducing risk, surprise and novelty into our sclerotic concert routine is far not over.
Violinist Patricia Kopatchinskaja Joins Camerata Bern to Present Adaptation of Grammy Award-Winning Program "Death and the Maiden" in a unique poetic film-concert experience on Virtual Circle on March 27 and 31. Tickets £ / $ 10ten/€ten display in multiple time zones. Visit emusiclive.com/Camerata_Bern to know more.
[ad_2]