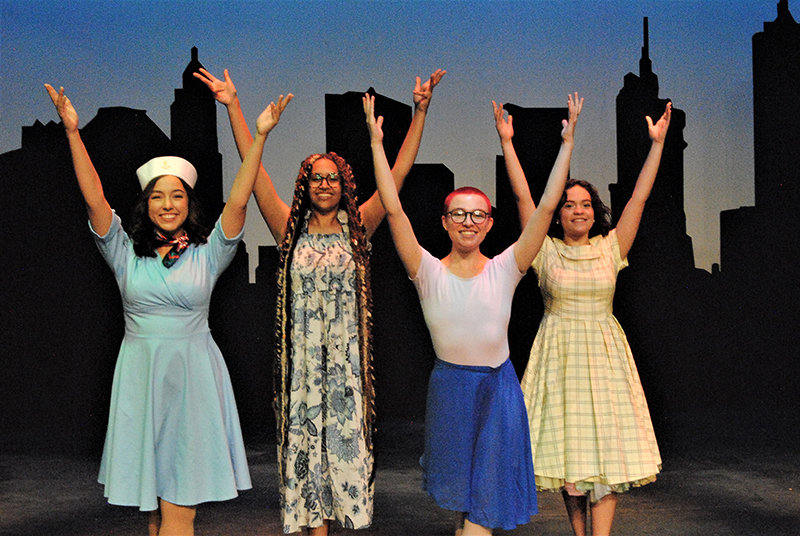 April 27 is the last day to sponsor a performer, song, show at NMSU's Broadway on Stage; performances are April 29 and 30
Newsletter Report
Sponsorships are still available for performers, songs, and performances in the New Mexico State University Theater Department's original production of "Broadway on Stage: Movie Magic."
Wednesday April 27 is the last day to be a sponsor. Contact Melis White at 575-646-5122 or [email protected] if you would like to sponsor a performer, song and/or show. The cost is $125 per referral.
Broadway on Stage will be performed live at 7:30 p.m. Friday, April 29 and again at 2 p.m. Sunday, April 30 at the ASNMSU Center for the Arts, 1000 E. University Ave.
Tickets are $25. Call 575-646-4515 or visit https://theatre.nmsu.edu/, click on the Broadway Onstage poster and click "BUY TICKETS".
The musical revue is led by Theater Department Assistant Professor Lisa Hermanson and Adjunct Professor Christa Fredrickson and includes performances from theater students and staff as well as community members.
Performers include Bryan Berard, Chris Brooks, Tiffany Brooks, Della Bustamante, Carter Chamberlin, Jonathan Cordova, Eva Cullen, Karlten Friedrich, Alli Glover, Dominique Gomez, Alyssa Gose, JJ Hanley, Meagan Higgins, Brianna Horvath, Shelby McKinney, Riley Samuel Merritt, Francesca Perez-Wright, Benjamin Ramsey, Esther Rogge, Mattie Ruminer, Caitlin Skibyak, Jensen Stell, Melis Derya White, Nolan Winters, Monte Womble, Peyton Womble, Waylon and Marley Yerxa, Centennial High School Choir, Singing Out Las Cruces and Workshop A40. NMSU Theater Department Head Wil Kilroy is the host.
The show is co-sponsored by the non-profit American Southwest Theater Company, with proceeds benefiting NMSU theater students.
Songs will include "The Music of the Night" from "The Phantom of the Opera"; I Know Where I've Been" from "Hairspray"; a "Mamma Mia!" mixed; "What I Did for Love" from "A Chorus Line"; and "A Sondheim Tribute," featuring songs from "Sweeney Todd: The Demon Barber of Fleet Street," "A Little Night Music," "Follies"; "West Side Story", and many more.