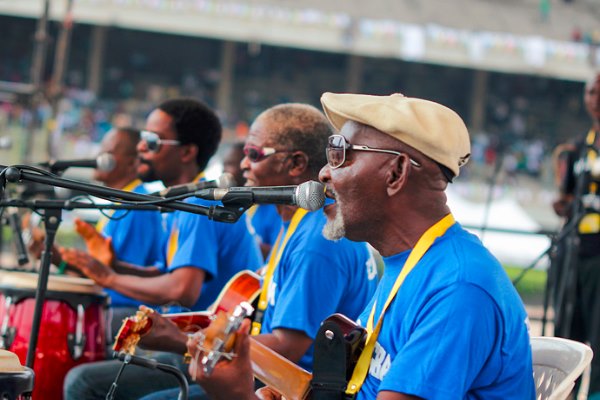 Agidigbo: A musical instrument and two songs
I was amazed by the performance of the agidigbo player, who was also the vocalist. Baba Sedieku skillfully played agidigbo and sang funny, sarcastic and moral numbers. He animated the burukutu with his resonant voice, which mingled with the rumble of the agidigbo instrument.
Agidigbo is a little-known traditional Yoruba instrument. But those who love old Yoruba music and those who have been in a joint of palm wine or burukutu would know what the instrument is. Music is what the ancient Yoruba used for entertainment and relaxation after a hectic day in the fields.
Basically folkloric in form and performance, the agidigbo generally preaches kindness, love and peace. For the instrument to produce a polyrhythmic sound, it is accompanied by shekere, maracas, tambourine and drums. The late Fatai Rolling Dollars was an agidigbo maestro but was well known for the guitar.
The subgenre name has appeared in two different songs in relatively recent times. Lagbaja and Reminisce both have a song called "Agidigbo". Lagbaja's 'Agidigbo' released from third studio album Us Before Me. Reminisce's "Agidigbo" was released from his second album Alaga Ibile.
The use of Lagabja draws on the cultural and traditional uses of the instrument. He entertains and preaches morality. Lagbaja opens the song with an agidigbo riff, just as previous players of the instrument have done. "Lowe lowe lami lulu Agidigbo / Ologbon lo mi a gbo / Omoran lo mi a ye / Te 'ti e sile ko ko gbon o,' (We beat the agidigbo drum in a proverbial way / Only the wise would hear / Only those who know the words would understand / So listen and learn.)
In the second verse, the agidigbo serves as the lead singer while Lagbaja and his backing vocalists repeat what the agidigbo is saying. The instrument warns womanizers to refrain from promiscuity, otherwise they will run into trouble. "Ana ogbe kan opelenge / Oni ogbe kan fati bom bom / Ojo ojo kan nbo / Osi ma gbe jombo." (Yesterday you brought a slender lady / Today you bring a fat one / A day is coming when you'll be in trouble.)
Also, sometimes the agidigbo player or singer throws a subtle punch at someone who couldn't decipher the coded language of the music. Midway through the second verse, after Lagbaja has urged the womanizers to renounce their amorous act, he warns the listeners: "Gbo gbo o un ko loriki / So ra e". (Warning / Not everything is a song of praise.)
Unlike his socially relevant and critically acclaimed "Ponmile," Reminisce's "Agidigbo," though instrumentally rich, is lyrically inferior. The song is in the same category with his recent offering, the shaku-shaku influenced "Problem".
His 'Agidigbo' is only titular and more highlife than juju. The song is an ode to oloshos (sex workers) and is laden with Reminisce's hardcore sexual innuendo and saucy lyrics. Throughout the song, Reminisce emphasizes that "prostitution is not a crime and theft is what spoils a child". The song is silly. It's a hodgepodge of gibberish. Ise lemi se / Owo lemi pa / E le re yin o. (You work / And you earn money / So you can't be tired.)
Where Lagbaja warns womanizers to refrain from womanizing, Reminisce does the opposite. He urges a young man who is dating sex workers to keep going because the young man is "working and making money so he can't be tired".
Both songs show the disparity between old and modern Nigerian pop. Reminisce's "Agidigbo" validates the sentiments of older Nigerian acts. Modern Nigerian pop glorifies sex with music videos bordering on soft porn. But the acts of the older generation are not prudes. Some of their lyrics also boast of vulgarity. Sir Victor Olaiya's "Baby Jowo" has sexual innuendo, while actor Fuji Abbas Akande Obesere thrived on vulgarism.
In a world where old music is recycled and old musical instruments are used by modern artists, the agidigbo (music and instrument) could find its way back into mainstream music, just like the Igbo genre ogene, a sound of street from the eastern part of the country, has found its place in Nigerian pop. When the day comes when a mainstream Yoruba artist includes the agidigbo sound in his music, older people hope that this is Lagbaja's path that is followed.